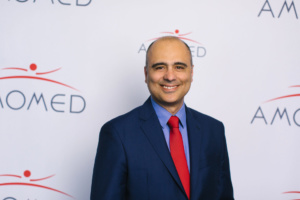 "Atrial fibrillation is the most common form of cardiac arrhythmia in adults among the general population. The prevalence increases with age and additional diseases such as heart failure or diabetes," says Head of International Medical Affairs at AMOMED Pharma, Dr. Houman Kamali, MD, MBA.
Atrial fibrillation (AFib) can result in longer hospital stays
Atrial fibrillation is often asymptomatic and diagnosed by chance during medical examinations that are performed due to other symptoms or illnesses. Patients with atrial fibrillation are more likely to suffer strokes, thromboembolic events and myocardial infarctions; and are more often readmitted to the hospital for cardiac issues (rehospitalization).
Compared to patients without atrial fibrillation, patients with AFib stay longer in the ICU and in hospitals overall. The intensity of events associated with atrial fibrillation increases with the severity of the underlying disease or medical intervention (e.g. surgery).
Atrial fibrillation after heart surgery can lead to additional complications
Particularly patients after cardiac surgery are susceptible to the development of new-onset atrial fibrillation (D'Agostino et al., 2018). The incidence and intensity of arrhythmia increases with the complexity of the surgical procedure. The majority of cardiac surgery patients who develop atrial fibrillation experience the first episode of AFib in the first 72 hours after surgery. Cardiac surgery patients with atrial fibrillation are more likely to develop complications requiring treatment and entail longer hospital stays, which in turn are associated with additional costs, compared to those without atrial fibrillation.
"It is therefore evident that the absence (avoidance, prevention) of atrial fibrillation can lead to positive clinical and economic outcomes for both, affected patients and society as a whole," emphasizes Dr. Kamali. The positive clinical benefit has been proven by several studies but the economic outcome has been examined less frequently. Only high-quality clinical studies should be used as a basis for calculating the evidence-based economic benefit of preventing atrial fibrillation after cardiosurgical interventions".
AMOMED conducted such a methodical evaluation with its corresponding products, which demonstrated the impressive positive economic benefit in the prevention of atrial fibrillation after heart surgery. For questions about the result of this evaluation, please contact us.
AMOMED's Offer for Anesthesiology and Intensive Care Medicine
AMOMED offers medicinal products, which can be used in cases of cardiac arrhythmia, myocardial infarction or sepsis. Learn more or register here to gain access to our AmoMED Academy for studies and product insights. You can also contact us at office@amomed.com or +43 1 545 01 130. We are happy to answer any questions you may have.
Source: MBA thesis "Economic value of prevention of atrial fibrillation after cardiac surgery" by Houman Kamali, M.D. (2019)