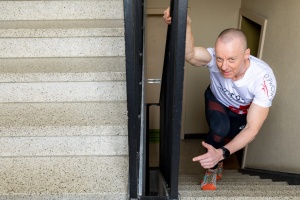 On February 16th, 2019, the World Championship in stair climbing will take place for the fifth time. At 8 am, athletes will take to the stairs at the high-rise building of the DIAKOVERE Annastift Leben und Lernen  in Hannover Mittelfeld, Germany.
The tournament draws top-tier athletes: No one made it faster to the top of the Empire State Building in New York than Dr. Christian Riedl. He tops the world ranks in tower running and aims to beat the record of 10.22 hours. Current reigning champion André Weinand will put up a tough fight against Riedl and the other determined participants.
The key facts of the race are spectacular and unique: 83,808 steps, 14,666 meters incline, 5,044 stories, 42,195 kilometers total.
Highly motivated physicians, architects, public officials, handymen, consultants, neuroscientists, psychologists, physicists, and just everyday people, will demonstrate how the impossible is in fact possible with responsible training and preparation.
Proficiency on stairs can save lives!
Doctors recommend to 'take the stairs more often', which is generally reasonable advice. However, a different perspective shows that several thousand people die due to falling on stairs in Germany. The experiences of the organizers, who have a background in consulting and also high-performance sport, clearly show: sustainable health promotion and prevention fully depend on personal know-how. Only controlled and thought out movements can effectively reduce the risk of falling.
This is not the norm: All participants in the world championship are true role models for sure-footedness. They run up millions of stairs every year without falling – and they demonstrate impressively how it works. This way, high-performance sport on stairs makes a contribution for a healthier society relevant and applicable in real life.
To showcase the wide-ranging benefits of stair climbing for all people, world record runner and race physician Christian Hottas as well as organizer and AMOMED Sales Manager Horst Liebetruth will be happy to answer any questions. Mr. Liebetruth offers practice trainings in addition to a final training. Dates and times are available upon request.
AMOMED Pharma GmbH supports the VERTICALMARATHON® World Championship.
AMOMED and VERTICALMARATHON® have a joint mission: Saving lives with the work they do. AMOMED specializes in pharmaceutical products for intensive care and emergency medicine, anesthesia as well as neurology and psychiatry. Our products are life-saving pharmaceuticals and are mainly used in critical and life-threatening situations.
Online at: www.amomed.com and www.vertical-marathon.de
Press: Ms. Dr. Kerry Tzu-Hui Nip
Phone: +49 (0) 1520 – 699 34 20 / Email: mail@sportslovr.de
Organizer: Horst Liebetruth, Tegeler Str. 14, D-30853 Langenhagen
Phone: +49 (0) 511 – 86 67 00 07 / Email: mail@sportslovr.de