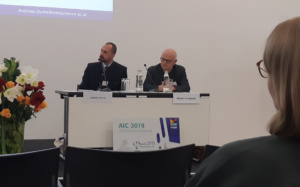 The Annual Conference (AIC) of the Austrian Society for Anaesthesiology, Resuscitation and Intensive Care Medicine – better known as ÖGARI  – took place in mid-November at the Congress Graz.
The event brought more than 1,000 participants from the following specialized areas together:
clinical anesthesiology
intensive care
emergency medicine
pain medicine
palliative care
Physicians and expert personnel from the above-mentioned disciplines use this conference every year to learn about the latest developments in these areas and to discuss current issues. Individual sessions focused on topics such as intensive care ventilation, news from pain medicine, perioperative medicine, ICU in pre-clinic, emergencies in palliative medicine, hot topics in intensive care medicine, medical law topics, and much more. Furthermore, there are also courses for advanced training, such as the half-day emergency refresher course on the last day.
Scientific Symposium
In this context of specialized medicine of anesthesiology, AMOMED invited to a scientific symposium with the overarching theme "The Trouble with Adrenergic Stress – New Precision and Control. Without Previous Compromises." The symposium began with a welcome by the two chairmen:
The topics highlighted were:
The vicious circle of under-perfusion and shock – Current significance of vasopressin – presented by Doz. Dr. J. Knotzer, MSc from Klinikum Wels-Grieskirchen
Overcoming existing limits of ß-antagonists with highly selective landiololol – presented by Prof. PD Dr. A. Duma, MSc of AKH Vienna
We welcomed more than 100 people in the audience, which is a strong indication that the topics that were discussed are of great interest for these fields.
AMOMED's Offer for Cardiology and Intensive Care Medicine
AMOMED offers medicinal products which can be used in cases of cardiac arrhythmia, myocardial infarction or sepsis. Learn more or register here to gain access to our AmoMED Academy for studies and product insights. You can also contact us at office@amomed.com or +43 1 545 01 130. We are happy to answer any questions you may have.