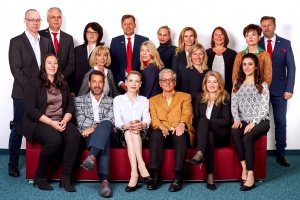 Our Austrian and German pharmaceutical representatives met in early April in Vienna to learn about the latest developments in the therapeutic areas in which AMOMED's products on the one hand and, on the other hand, to welcome new colleagues.
What's New at AMOMED?
The biggest news was already obvious upon arrival of all participants: our Austrian and German teams grew tremendously. In Austria, 5 field agents are travelling throughout the country to inform physicians and healthcare professionals at hospitals about AMOMED's products; in Germany there are even 11.
As not only topics from the medical field are part of the responsibilities of our field ambassadors, the training session was kicked off with an introduction to a software tool, which is supposed to support our team in their everyday work.
Next up was an update about medical developments in the areas where AMOMED's product portfolio is put into action. Scientific studies and reports from the field were presented and interpreted.
A specific focus was put on the direct feedback from doctors, which is of utmost importance to us. Our pharmaceutical representatives relayed the observations by the healthcare professionals, who work with our pharmaceutical products on a daily basis, to their colleagues and our team at the headquarter. There is no input more valuable than the hands-on examples from the daily operations at hospitals, which give us insight into when physicians use our medical products and which patients get the most benefit out of them.
First We Learn, Then We Play
Of course, not only the educational parts are at the focus of such gatherings but also getting to know each other better during some after-training activities to balance the intensive lectures. And what could be more Viennese than art & history – and good food. Both teams visited the famous Albertina Museum, where they were guided through the Warhol to Richter exhibition hearing about contemporary art after 1945. The good food was to be found at a Heurigen – the Viennese version of a wine tavern – where local delicacies were served and devoured.
The three days were comprehensive and intense and therefore we thank all dedicated staff of our field force on the one hand and all trainers, who invested a lot of time and work in the preparation of the meeting, on the other hand.