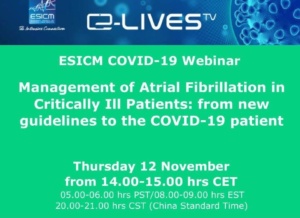 The European Society of Intensive Care Medicine (ESICM) will host a COVID-19 webinar on the Management of Atrial Fibrillation in Critically Ill Patients: from New Guidelines to the COVID-19 Patient.
Date:     Thursday, November 12, 2020
Time:     2 PM CET
Participation is free of charge.
Click here to join the webinar.
Presenting experts
Prof. John T. Parissis – Greece
Professor of Cardiology, National & Kapodistrian University of Athens & Head of Emergency Department, Attikon University Hospital, Chaidari
Prof. Michel Slama – France
Head of Medical ICU, Amiens University Hospital and Chair of Critical Care Medicine, Amiens University
Moderators
Prof. Jean-Louis Vincent (Belgium)
Professor of Intensive Care Medicine, Université Libre de Bruxelles & Intensivist, Department of Intensive Care, Erasme University Hospital, Brussels
Prof. Andrea Morelli (Italy)
Department of Clinical, Internal, Anesthesiologic & Cardiovascular Sciences, Sapienza University of Rome
The webinar is proudly sponsored by AMOMED Pharma – A Member of the AOP Orphan Group.
About the European Society of Intensive Care Medicine
ESICM is an international non-profit organization and was founded in 1982 in Geneva, Switzerland. The association supports and promotes the advancement of knowledge in intensive care medicine through education, research and professional development.
ESICM offers up-to-date information on COVID-19 developments and resources relevant for intensive care including the Surviving Sepsis Guidelines.
AMOMED's Offer for Intensive Care Medicine
AMOMED offers medicinal products, which can be used in cases of cardiac arrhythmia, myocardial infarction or sepsis. Learn more or register here to gain access to our AmoMED Academy for studies and product insights. You can also contact us at medinfo@amomed.com or +43 1 545 01 130. We are happy to answer any questions you may have.