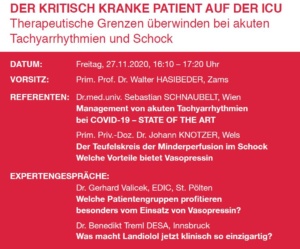 This year's AIC (Austrian International Congress for Anesthesiology and Intensive Care Medicine), the ÖGARI's annual congress (Austrian Society for Anesthesiology, Reanimation and Intensive Care Medicine) will be held November 26-27, 2020 as a virtual event. AMOMED Pharma will be hosting a symposium (German only) on the second day of the congress:
Topic:                               The Critically Ill Patient in the ICU: Overcoming Therapeutic
                                            Boundaries for Acute Tachyarrhythmias and Shock (German only)
Venue:                             Online
Date & Time:               Friday, November 27, 2020 4:10-5:20 PM GMT
Speakers & Content:
Sebastian Schnaubelt (Vienna) – Management of Acute Tachyarrhythmias with COVID-19– State of the Art
Johann Knotzer (Wels) – The Vicious Cycle of Under Perfusion in shock. Which Advantages Does Vasopressin Have to Offer
Expert Discussions:
Gerhard Balicek, EDIC (St. Pölten) – Which Patient Groups Benefit the Most from the Use of Vasopressin
Benedikt Treml, DESA (Innsbruck) – What Makes Landiolol so Unique in Clinical Use?
The symposium is chaired by Dr. Walter Hasibeder (Zams) and will be in German only.
Everyone who is registered for the congress can participate in the symposium via the live stream. Online access data will be sent by email.
The symposium will be recorded and will be available for one month a few days after the event. In case you are unable to attend the symposium, please contact us at office@amomed.com  and we will send you the link by email as soon as the recording is available.
AMOMED Pharma is proud GOLD-Sponsor of the AIC Digital – The 2020 ÖGARI Online Congress.
Information about the Organization
The Austrian Society for Anesthesiology, Resuscitation and Intensive Care Medicine (ÖGARI) seeks to promote and optimize the domain of anesthesiology. In particular, the organization focuses on the areas of clinical anesthesiology, intensive care, emergency medicine, pain management and palliative care.
The AIC will be a digital event this year due to the COVID-19 pandemic and will offer participants both live sessions and recorded presentations. Topics relating to the areas mentioned above include:
Future Perspectives in Anesthesia through Digitalization
Intensive Care Medicine in Europe – New Ways?
The Palliative Patient in the Intensive Care Unit
etc
You can find more details about the program on the event agenda.
AMOMED's Offer for Intensive Care Medicine
AMOMED offers medicinal products, which can be used in cases of cardiac arrhythmia, myocardial infarction or sepsis. Learn more or register here to gain access to our AmoMED Academy for studies and product insights. You can also contact us at medinfo@amomed.com or +43 1 545 01 130. We are happy to answer any questions you may have.