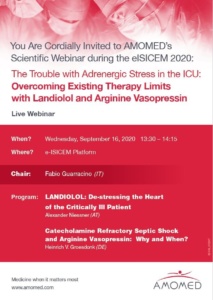 Following the ESC Congress at the end of August, the upcoming ISICEM will also be held as a digital experience. Over the course of four days, September 15-18, 2020, medical experts in intensive care and emergency medicine will gather virtually to discuss the latest developments in the field.
Join AMOMED's Symposium on Adrenergic Stress in the ICU
AMOMED is not only a proud Platinum Sponsor of this year's ISICEM. On the second day of the congress, September 16, we will host a scientific symposium chaired by Prof. Dr. Fabio Guarracino (Italy) on The Trouble with Adrenergic Stress in the ICU: Overcoming Existing Therapy Limits with Landiolol and Arginine Vasopressin from 13:30-14:15 CEST.
The following notable physicians will join us as speakers:
Priv. Doz. Dr. Alexander Niessner, MSc (Austria) – Landiolol: De-stressing the Heart of the Critically Ill Patient
Dr. Heinrich V. Groesdonk (Germany) – Catecholamine Refractory Septic Shock and Arginine Vasopressin: Why and When?
To be able to join the symposium, you must first register for the e-ISICEM Congress. After registering, you can watch the symposium on September 16 under this link.
Plus, you can also e-visit us at our virtual booth during the entire duration of the e-ISICEM September 15-18, 2020.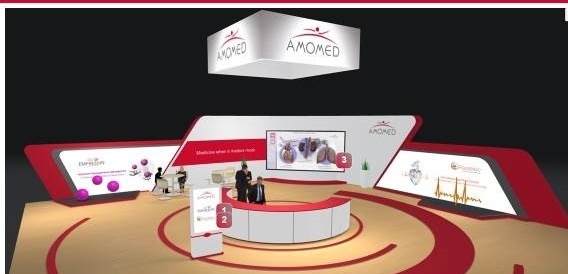 The ISICEM Congress – An Annual Staple for Intensivists and Healthcare Professionals in Emergency Medicine
More than 400 presentations with 170 specialists comprised of lectures, debates, panel discussions and meet-the-expert sessions will be held during the course of this four-day congress, which is chaired by Jean-Louis Vincent. Topics of these presentations include:
COVID-19
Sepsis
Respiratory monitoring
Hemodynamic monitoring
Hematological challenges
How to manage vasopressor agents in septic shock
The ISICEM will therefore once again be a must for experts in intensive care medicine with these broad range of specific topics although in a new, entirely virtual format.
AMOMED's Offer for Intensive Care Medicine
AMOMED offers medicinal products, which can be used in cases of cardiac arrhythmia, myocardial infarction or sepsis. Learn more or register here to gain access to our AmoMED Academy for studies and product insights. You can also contact us at office@amomed.com or +43 1 545 01 130. We are happy to answer any questions you may have.